Page content
Bangladesh: Empowering women with climate-resilient livelihoods
Published on 11 May 2023
Overview
The coastal districts of Southern Bangladesh frequently experience severe drinking water scarcity due to salinity. Households – specially women-headed - can highly benefit from access to drinking water solutions and knowledge on how to engage and adopt alternative livelihood options.
Drinking water solutions and livelihood diversification to minimize climate risk 
About 80% of illnesses in developing countries are attributed to unsafe drinking water and waterborne diseases. In Southwestern Bangladesh, lack of safe drinking water severely affects women as they are mainly responsible for fetching water. Studies from other developing countries show that the construction of rainwater harvesting systems allowed women to employ their time on different income-generating activities (e.g.  kitchen gardening and livestock rearing) and other social activities (e.g. studying, trainings or accounting). Likewise, the empirical literature also suggests that diversification of farmers' income sources might be an effective strategy to cope with the increasing salinity and the degradation of soil quality and risks of fish cultivation¹. However, knowledge gaps still exist on the synergies and complementarities of both interventions and the extent of which they can fully support women empowerment in the context of Bangladesh.
Empowering women in coastal communities of Bangladesh 
Funded by the GCF and supported by UNDP, the project "Enhancing adaptive capacities of coastal communities, especially women, to cope with climate change induced salinity" has been implemented by the Ministry of Women and Children Affairs, and the Department of Public Health Engineering of Bangladesh since 2019 and it is expected to be finalized in 2024. The target population is mainly female-headed households from two districts - Khulna and Satkhira - living in coastal areas. The project's activities operate along two main components - livelihoods and the drinking water solutions. For the former, alternative livelihood strategies - such as crab fattening, crab nursery, crab and fish feed processing, homestead gardening, aqua-geoponics, hydroponics, sesame cultivation, and plant nursery - are provided to women groups. For the latter, the construction of rainwater harvesting systems is expected to ensure water supply during dry seasons. Also, by creating closer access to clean drinking water, women - who are solely responsible for water fetching – can better use their time on the trainings and capacity building activities on how to adopt the alternative livelihoods options promoted by the project.  The long-term outcomes and impacts of the project can contribute to achieving country's targets under several Sustainable Development Goals (SDGs), such as 1 - 'No Poverty', 2- 'Zero Hunger', 5- 'Gender Equality', 6- 'Clean Water and Sanitation' and 13 - 'Climate Action'.
theory of change for the impact evaluation: How project's inputs and activities are expected to generate impact
What the data tells us  
A detailed data collection exercise took place in 2021 – before the beginning of the project's activities -, gathering information of 3,120 households (2,000 and 1,120 beneficiaries and non-beneficiaries respectively) from 39 union parishads and 5 upazilas. The on-the-ground evidence indicates that, in general, beneficiary and non-beneficiary households are similar in many aspects – such as household size, level of education, employment, time spent on fetching water, proximity to clean water sources, exposure to natural disasters, infections by a waterborne disease and food security.
Findings also suggest that women from beneficiary households are more likely to join women groups, as well as willing to engage in non-traditional income generating activities (e.g. climate-adaptive ones). The observed differences in total income from non-agricultural activities between the groups indicates that women from beneficiary households are generally allowed to engage in different types of work. Likewise, given that beneficiary households seem to have lower access to safe shelter and understanding early warning signals, both groups follow different coping strategies in case costs are imposed by a natural disaster.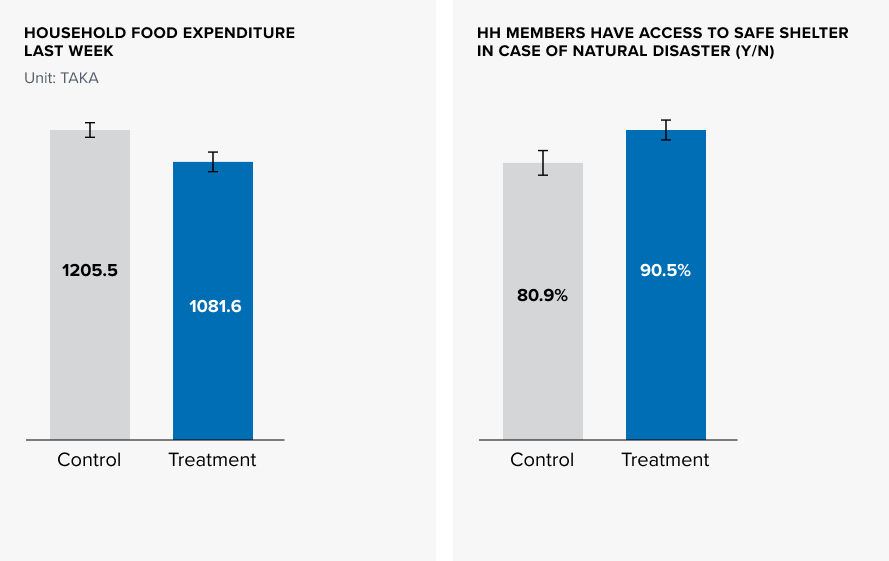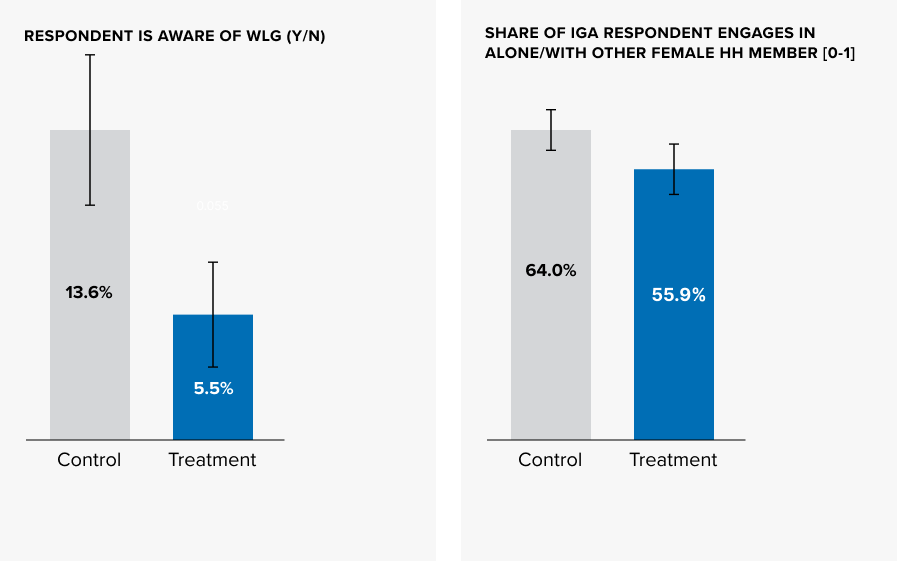 Assess results table
 
Beneficiary (SE)
Non-beneficiary (SE)
Beneficiary - Non-beneficiary
Respondent is aware of WLG (y/n)
0.136
0.055
0.081**
(0.033)
(0.023)
Respondent's awareness of project-promoted alternative LHs (y/n)
0.445
0.375
0.070
(0.067)
(0.076)
HH currently practices climate-adaptive LH (y/n)
0.811
0.799
0.012
(0.028)
(0.059)
Time HH members spend fetching water per week (in minutes)
338.651
304.391
34.260
(26.306)
(34.707)
At least one HH member was affected by the water-borne disease in last the 12 months (y/n)
0.648
0.584
0.064
(0.046)
(0.056)
Total household income last 12 months (Taka)
115,523.574
103,134.387
12,389.186**
(5,981.934)
(8,822.767)
Share of HH income from agricultural wage employment in the last 12 months
0.147
0.148
0.001
(0.016)
(0.017)
Share of HH income from non-agricultural wage employment in the last 12 months
0.239
0.214
0.025
(0.023)
(0.024)
Number of different income-generating activities women engaged in the last 12 months
1.834
1.955
-0.121
(0.052)
(0.106)
Share of IGA respondent engages in alone/with other female HH member [0-1]
0.640
0.559
0.081**
(0.042)
(0.052)
Decision-making involvement index [1-5]
3.354
3.487
-0.133
(0.103)
(0.145)
Food secure (y/n)
0.270
0.259
0.012
(0.053)
(0.068)
Household food expenditure last week (Taka)
1,205.526
1,081.604
123.922***
(28.328)
(38.031)
HH members have access to safe shelter in case of natural disaster (y/n)
0.809
0.905
-0.095**
(0.036)
(0.029)
HH members understand early warning signals shared in case of disaster (y/n)
0.979
0.992
-0.013**
(0.006)
(0.003)
Note: *p<0.05, **p<0.01, ***p<0.001
What's next
The evidence shows promising results for the success of the projects. New rounds of data collection will allow to understand
the extent of which women are adopting alternative income generating activities supported by the project and 
the complementarities and synergies between a better access to drinking water and adaptative livelihood options on improving women's wellbeing.
References
[1] Uddin et al., 2014; Bobojonov et al., Aggarwal et al., 2004
Related projects
Intervention
This 6-year project (2018-2024) aims at strengthening the adaptive capacities of the coastal communities against the impacts of climate change, by aiming at the adoption of climate-resilient livelihoods and an increase of drinking water availability. The target population are mainly women that are vulnerable to climate change induced salinity in two districts in the coastal area of Southern Bangladesh. Key expected outcomes are 
climate resilient livelihoods, focusing on women, for enhanced adaptive capacities of coastal agricultural communities, 
gender-responsive access to year-round, safe and reliable climate-resilient drinking water solutions and 
strengthened institutional capacities knowledge and learning for climate-risk informed management of livelihoods and drinking water security.
Project Overview 
Steps to assess impact
Inception (plan, design and team set up)

Develop & pilot a survey instrument

Conduct a baseline survey & analysis

Programme/Project implementation

Conduct follow-up survey & analysis

Estimation of impact / final report writing

Dissemination of findings/evidence
survey firm
Practical Action Consulting​
Technical  partners
UNDP
Independent Evaluation Unit/GCF
Approaches to assess the impact
Following a stratified/phase-in RCT, baseline has been conducted in 2021 with 3,120 households (2,000 treatment and 1,120 control), while endline data collection has been finalized in early 2023 with total of 3,120 households (2,000 treatment and 1,320 control) interviewed. The impact analysis is ongoing. The objective is to measure household income and expenditure, revenues from income-generating activities and resilience to shocks among others.
Randomized control trial (RCT)
Project gallery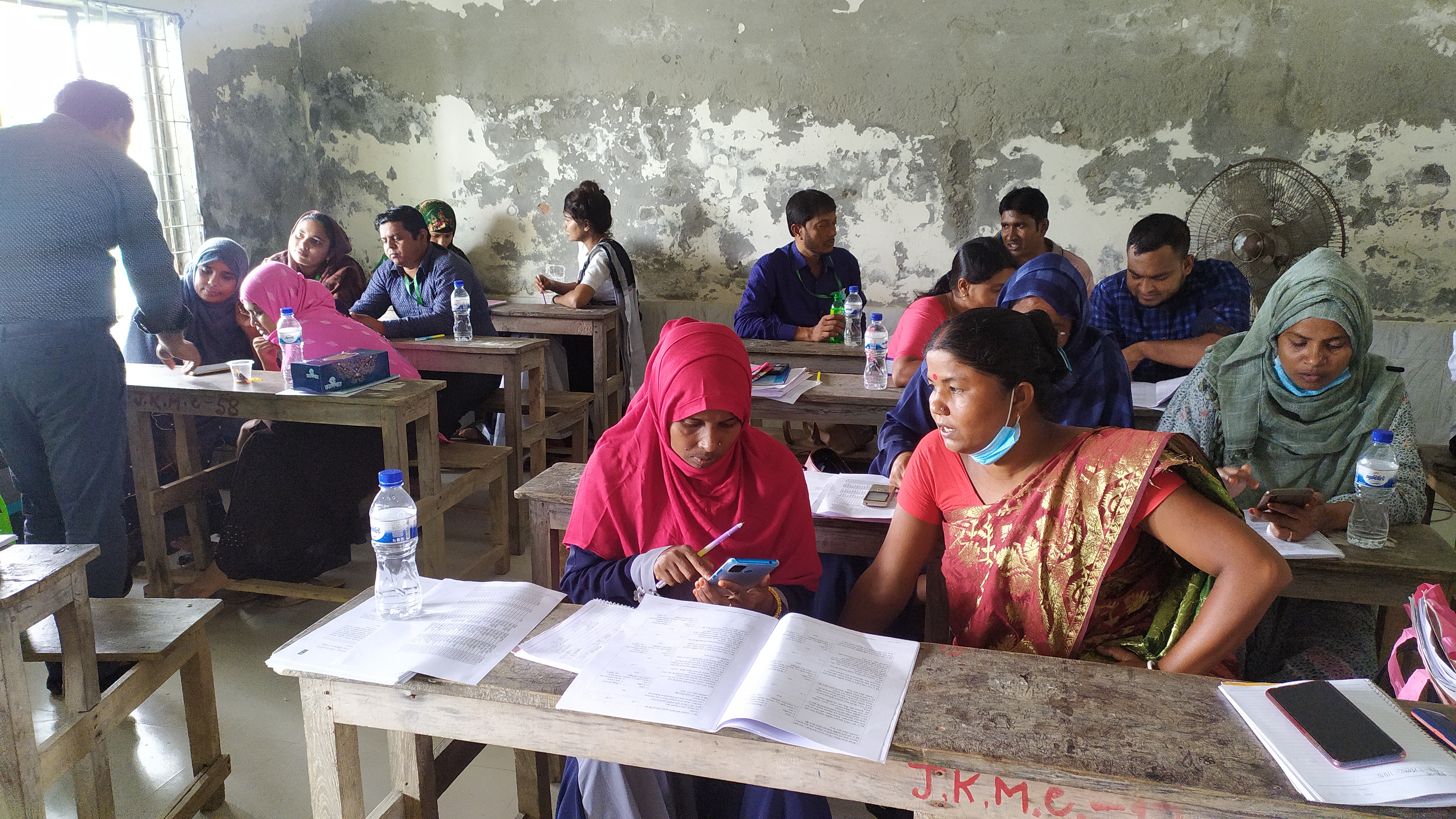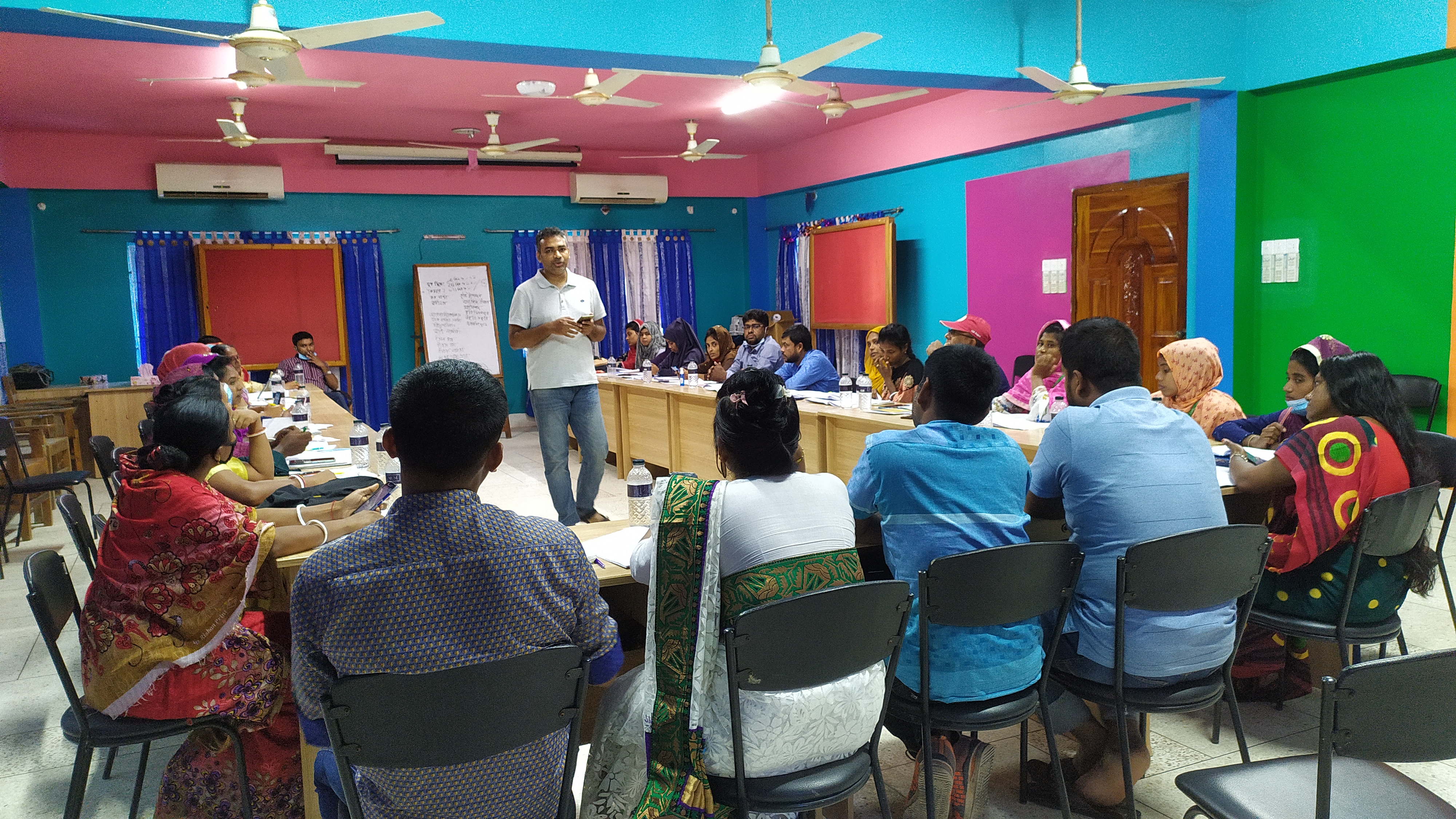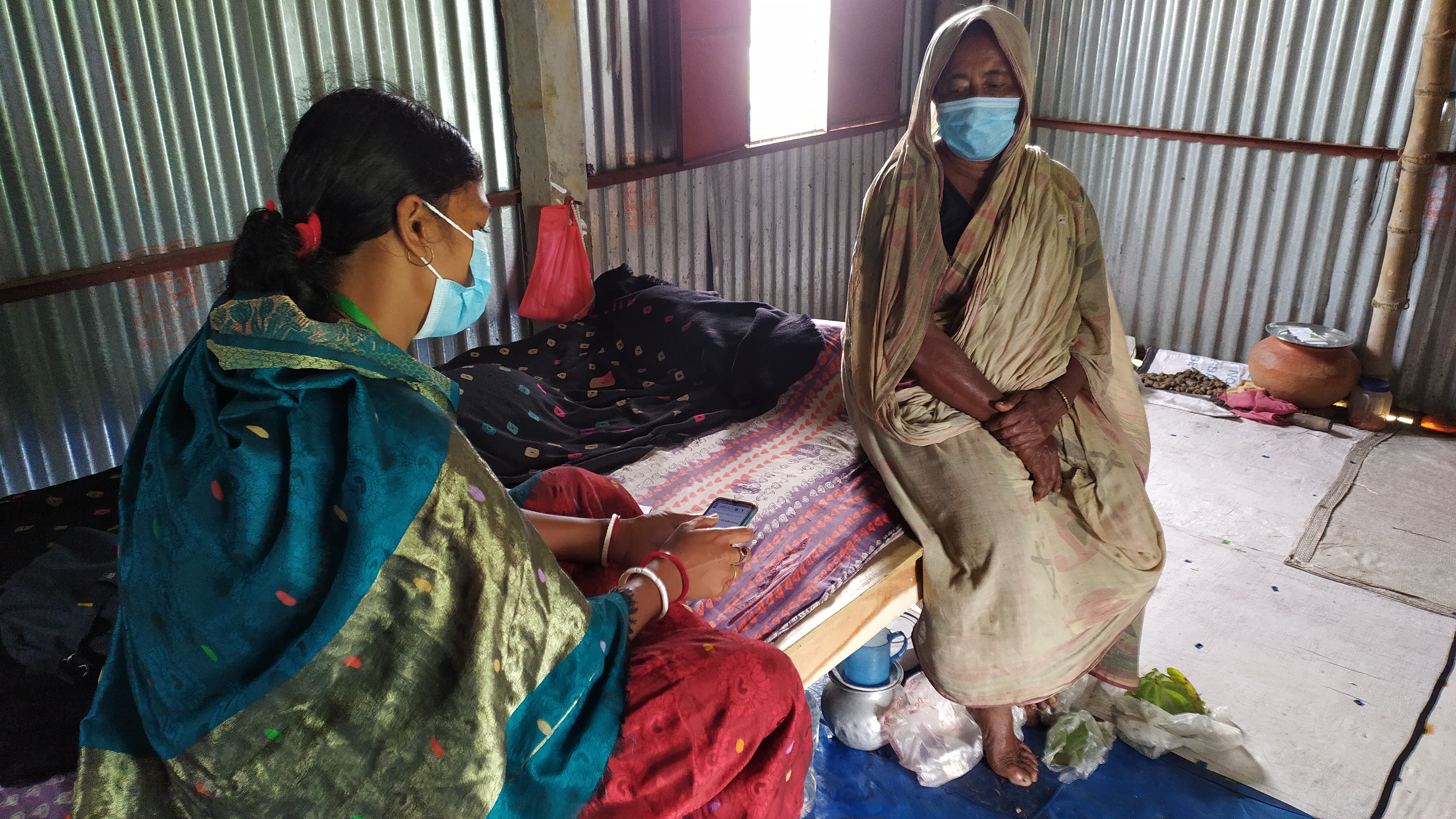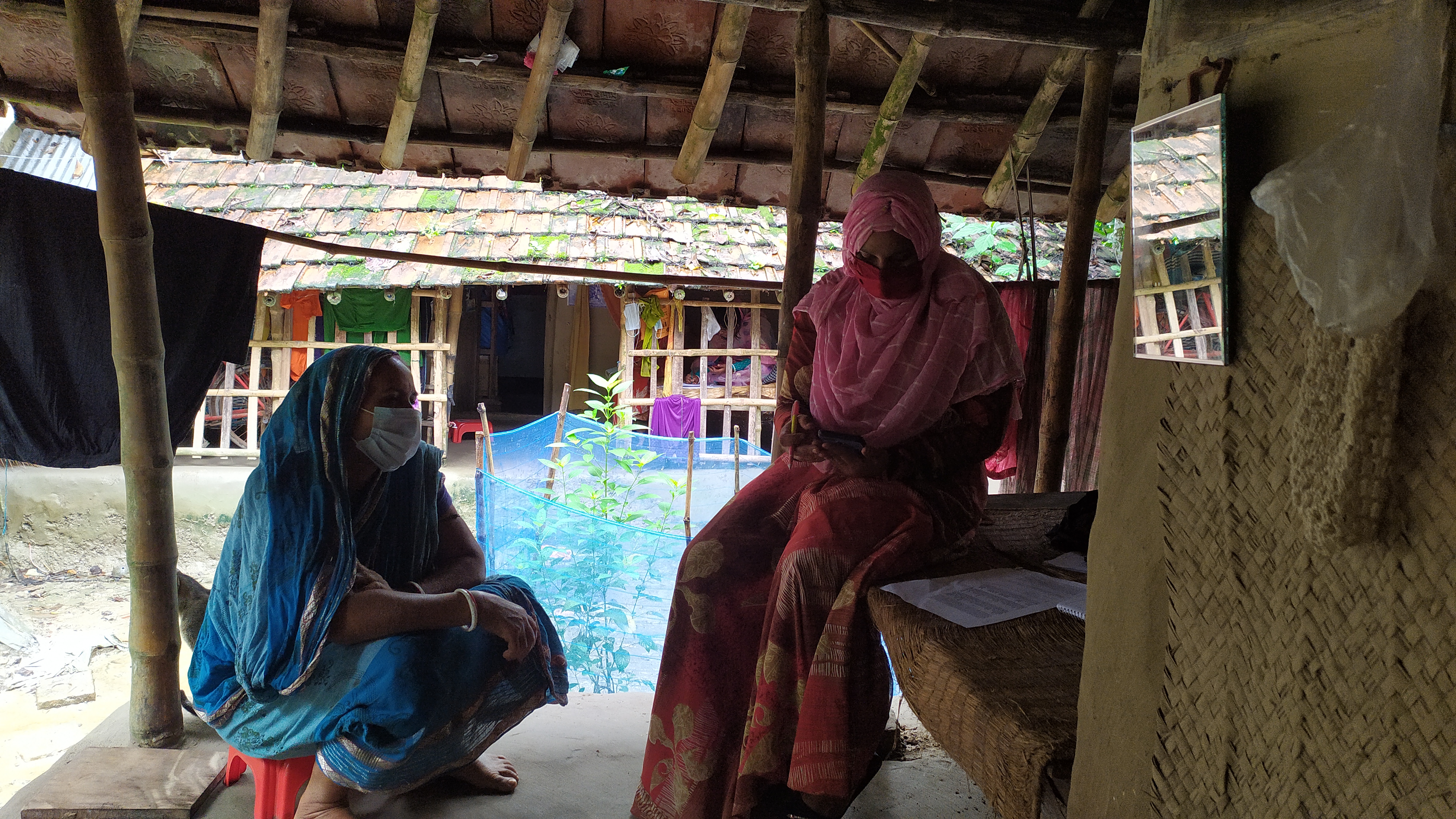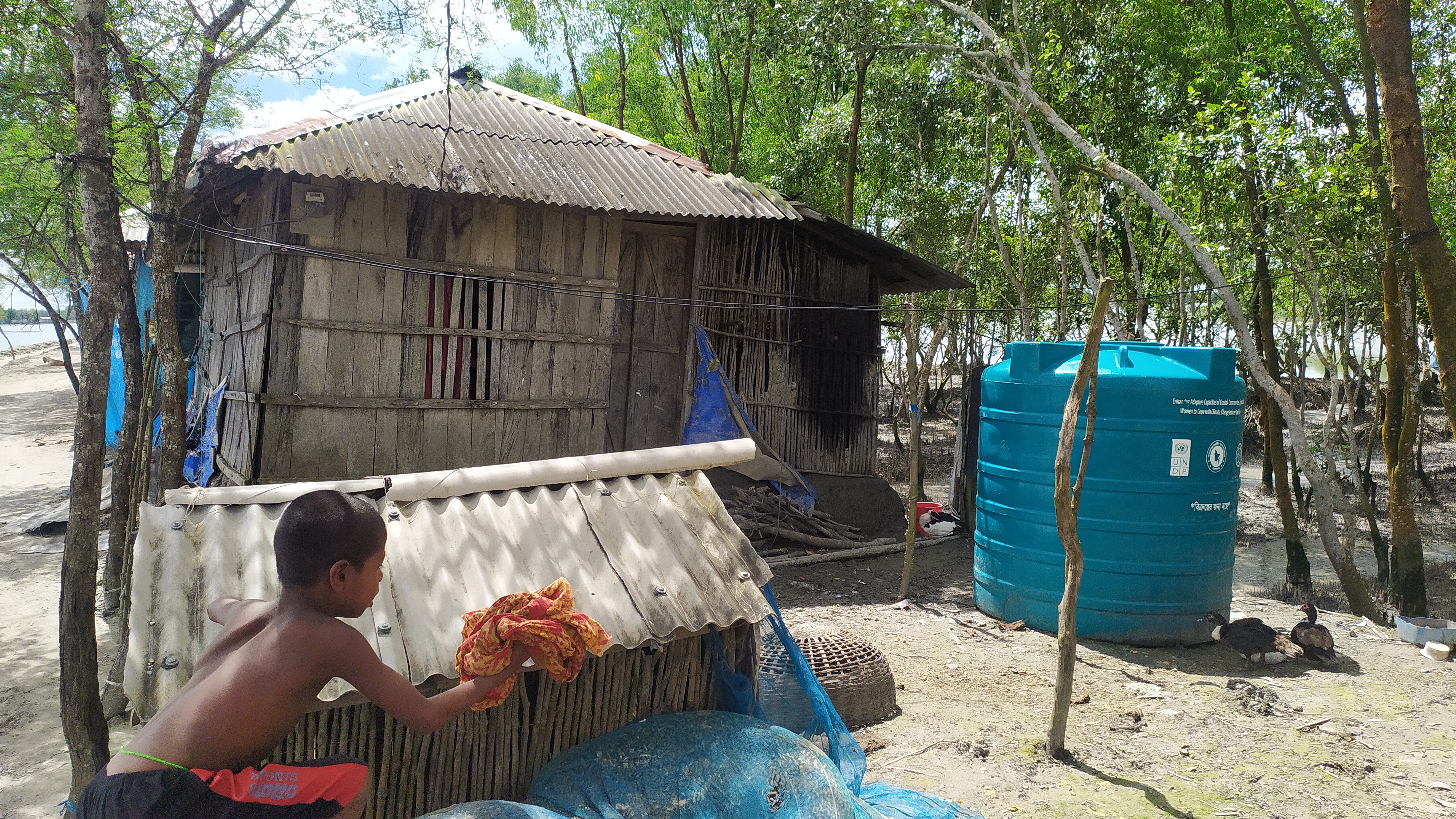 Get Involved
Are you interested in contributing to this project or the global response? We're looking for people who can contribute data and analyses, as well as organizations interested in partnerships and funding